What Is Employee Retention? X Effective Employee Retention Strategies in 2022
Another high performing employee has left your organisation under a year and you have no clue why. If you can relate to this, read on!
Your employees are your biggest assets! As businesses are driven by its workforce, it becomes important to retain that talent. Losing loyal, and efficient employees, who have been a part of your system can impact the business performance. There is a significant financial impact of employee retention and turnover.
That's why it is critical to know why certain employees leave and others stay. Understanding what employees value and formulating the right employee retention plans can be a strategic advantage to a business.
What is employee retention?
Employee retention is an organisation's ability to retain its employees in the long run. It is defined as the efforts an organisation makes to ensure that its employees are retained and don't leave the job. The ongoing pandemic has made employee retention an even bigger challenge as millions of employees are quitting their jobs across the world. The "Great Resignation" is a reality in many organisations across the globe. 
In a scenario like this, when employee priorities seem to have changed, companies need to re-strategise the way they handle their workforce. Whatever policy changes organisations make, they must ensure that the employees are valued, appreciated, and provided with a flexible work environment that encourages productivity. Empathy should become a central tenet of today's modern organisations. 
Retaining employees not only enables companies to have the best talent continue working for them, but also enhances recruitment and training efficiency. It also boosts employee morale, creates a loyal workforce, develops stronger work culture, and builds a solid brand image. Experienced workforce leads to increase in productivity and revenue.
Why do employees leave?
Employees might leave for a variety of reasons, but the following are seen as the most determining factors: 
Employee dissatisfaction
Having a dwindling work-life balance, Burn-out which can lead to a lesser job satisfaction

They feel they are inappropriately paid or undervalued

Better alternatives
Financial reasons like better pay in another organisation

Better company culture

Better opportunities for career advancement and growth
A planned change
More flexible work arrangements

More defined career path

Priorities have changed
A negative experience
Unpleasant employee-manager relationships

Misalignment with the organisation's values
It is a company's responsibility to make their employees feel valued and appreciated so that they continue to remain loyal and hardworking. Some of the common mistakes that employers make that reduce their retention rate include hiring ineffective managers, emphasising only monetary gains, discriminating against working parents, not putting their employee's well-being first, and not taking action on the feedback provided by the employees.
How do you know when an employee is about to leave?
All companies witness employee turnover and it is not possible to keep every employee happy. If your employee is showing one or more of the following signs, they might be getting ready to bid you goodbye!
Their productivity has dropped significantly

They don't act as a team player anymore

They don't go out of the way to complete their work

They are unwilling to commit to long-term projects/responsibilities 

Exhibit a negative change in the attitude 

They don't talk good about the organisation

The focus from the job is missing 

They express dissatisfaction with the job and their managers quite often, quite openly

They have developed a casual/irresponsible behaviour towards their work
Identifying these early warning signals at the right time can be critical. It gives you an opportunity to sit with them and understand their point of view. Addressing their concerns can even alter their decision to leave and bring back the enthusiasm towards work & organisation. Another advantage of recognising these red flags is that you can prepare better to handle the workload once they are gone.
Employee retention strategies for 2022
The right kind of efforts in the right direction can improve the employee retention rate. Here are some actionable strategies for 2022 that you can implement: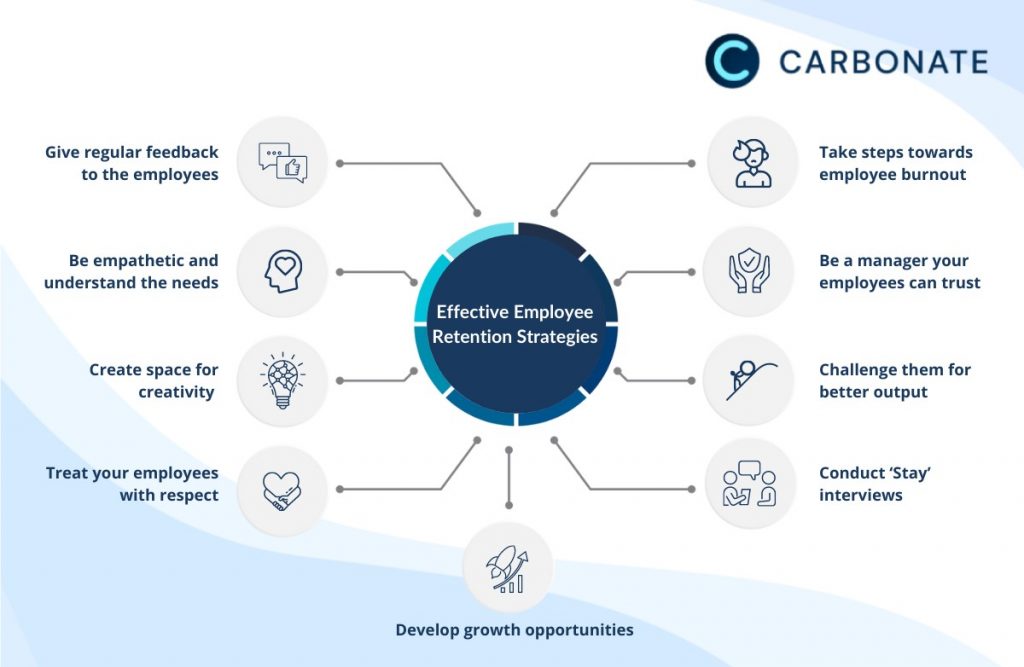 Give regular, positive feedback to the employees
Positive feedback, a few words of encouragement, and affirmation can make a huge difference in the way employees approach their work. It can increase their commitment towards their work and make them more productive. It also shows that their efforts are being acknowledged, valued, and appreciated. 
However, it is important to keep things balanced. If you praise generously, you should also provide constructive criticism whenever necessary. This will help your employees get better at areas where there is a scope for improvement.
Effective actions you can take:
Link positive behaviour with business results

Provide the feedback immediately after an employee achieves something

Give feedback in front of their colleagues. It will encourage others to follow suit

Be specific and clear with your compliments and the reason for the feedback

Avoid being condescending
Golden Tip: Give one positive feedback every week to each employee. 
Be empathetic, flexible, and understand their needs 
The world is still reeling under the aftereffects of the COVID-19 pandemic. Remote or hybrid work arrangements have blurred the lines between personal and work life, and employers must keep this in mind while handling their workforce. In a scenario where people are struggling with long working hours, uncertainty, stress, anxiety, and managing work and their responsibilities as caregivers, being empathetic can take you a long way.
Effective actions you can take:
Be aware and understanding of their personal/family-related challenges – financial, medical, mental needs

Focus on employee benefits 

Provide more perks like child care, more time for family, work-life balance 

Provide flexible work timings 

Help them open up about their stress points 
Golden Tip: Schedule one-on-one with every employee every quarter and don't talk about work
Create space for creativity in the workflow
Encouraging creativity at the workplace often brings the best out of employees. They can provide better results, expand your business with new ideas, increase sales and find plausible solutions to different problems.
For example, The 20% program offered by Google empowers employees to enhance their creativity as they can spend 20 percent of their time working on side projects and what interests them the most.
Effective actions you can take:
Let your employees think outside the box. Don't limit them with how and when 

Be open to brainstorming on new ideas 

Let them implement their ideas, give them the freedom to make mistakes 

Encourage everyone to come up with creative ideas, this will encourage participation 

Wider the pool of talent, more varied will be the ideas. So, hire from different backgrounds 

Act on ideas that look actionable, this will encourage more creative ideas 
Golden Tip: Organise open forums to discuss out-of-the-box ideas every quarter 
Give your employees the respect they deserve
Every individual, irrespective of the position they work in, seeks respect from their employers. And it is your primary duty to provide them that. Showing them respect will result in a fulfilled, engaged, motivated, and a loyal workforce. 
Effective actions you can take:
Be in control of your anger 

Be polite, empathetic, understanding, and chivalrous 

Be helpful to your reportees 

Be ready to listen, and do it sincerely

Respect their privacy, even in a professional setup 

Don't use foul language, and be sensitive  

Never be judgemental
Golden Tip: Give positive feedback immediately but discuss negative feedback the next day!  
Take preventive steps towards employee burnout 
Pandemic related stress, job insecurity and long working hours has made a large number of employees across the world feel burned out. It has also been seen as one of the major factors in employees looking for new jobs. A 24x7 work system has made it difficult for employees to switch off completely, as they did during the pre-pandemic era. Organisations must develop strategies that reduce employee burnout.
Effective actions you can take:
Focus on the completion of work, rather than the number of working hours 

Encourage employees to take time off

Provide recharge days, regular week offs, temporary breaks 

Closely monitor workload, divide the work efficiently 

Offer employee assistance programs

Make workplace wellness a priority
Golden Tip: Conduct regular informal team bonding activities 
Develop growth opportunities 
If employees don't foresee a brighter future in your organisation, they are bound to leave sooner or later. From personal and financial growth opportunities, promotions, upskilling, getting to work on different projects, or carrying out varied responsibilities, companies can do a lot to ensure their employees don't leave. 
Effective actions you can take:
Promote employees from within the organisation

Provide different types of training and upskilling workshops/courses

Assign a mentor who can help them get better at things 

Let them explore cross-training opportunities 

Identify and encourage soft skills 
Golden Tip: Plan the career path with every employee at the start of the year and schedule a mid-year review of the progress
Be a manager your employees can trust
An employee-manager relationship that doesn't have a strong sense of mutual trust never goes a long way. You can make your employees work with force and fear, but they will only do the bare minimum work that will safeguard their job. If you want them to go the extra mile, you need to establish a relationship of trust. It has been observed that employees who trust their managers are more likely to fulfil their tasks and also surpass the expectations. 
Effective actions you can take:
Let your employees speak their minds, and listen sincerely, attentively 

Employees feel confident if they have a voice. So, act on their feedback

Be fair, give equal importance to everyone, and avoid being partial 

Show trust in their decisions, talent, and abilities 

Develop an inclusive work culture 
Challenge them for better output
A position entails fulfilling certain roles and responsibilities but doing the same thing every single day can cause boredom. So, throw different kinds of challenges to keep them interested in their work. Proper encouragement, appreciation, division of work, and result-oriented approach can lend great results. 
Effective actions you can take:
When you give your employees a new task, express your belief in them 

Encourage them to take risk, and back them if they fail 

Convince them that you are there as their support system

Appreciate and acknowledge their efforts if they accept your challenges 

Reward them if they succeed in fulfilling the task 
Golden Tip: Give everyone an opportunity to work on a task that is different from their regular responsibilities 
Conduct 'Stay' interviews 
It is a rare phenomenon, but something worth trying. Doing stay interviews can help organisations know more about what the employees are seeking. 
Effective actions you can take:
Ask them about the things that excite them about their role, and things that don't 

Their concerns, complaints, insecurities, etc

If they see a future for themselves, and how the company can help them grow

If they have ever thought of leaving the company – why? And why did they decide to stay

What changes they would like to see in the company, its processes, approach, leadership, etc
How HR software can help improve employee retention
HR software like Carbonate can play a pivotal role in making the employee retention program effective. It can help in collating and analysing key employee retention metrics, in addition to providing useful insights about where a company can improve. It can also create reports highlighting the impact of strategic investment on employee retention. Companies that fail to implement such robust initiatives end up losing their best talent and overshooting their budget in hiring and re-hiring new talent. 
Conclusion
Employee retention is an important aspect of any successful business, after all, it is your employees that will take your organisation to newer heights. With the right strategy, and actionable efforts you can overcome this challenge.