The Professional Kitchen series: Colour coding your kitchen utensils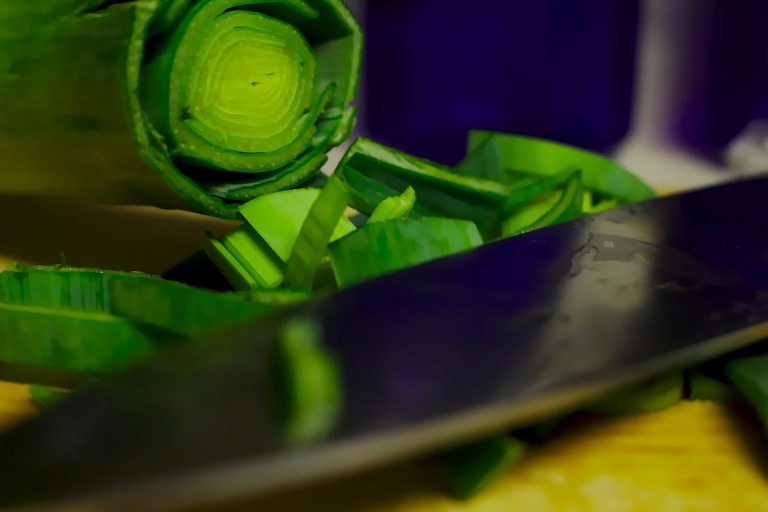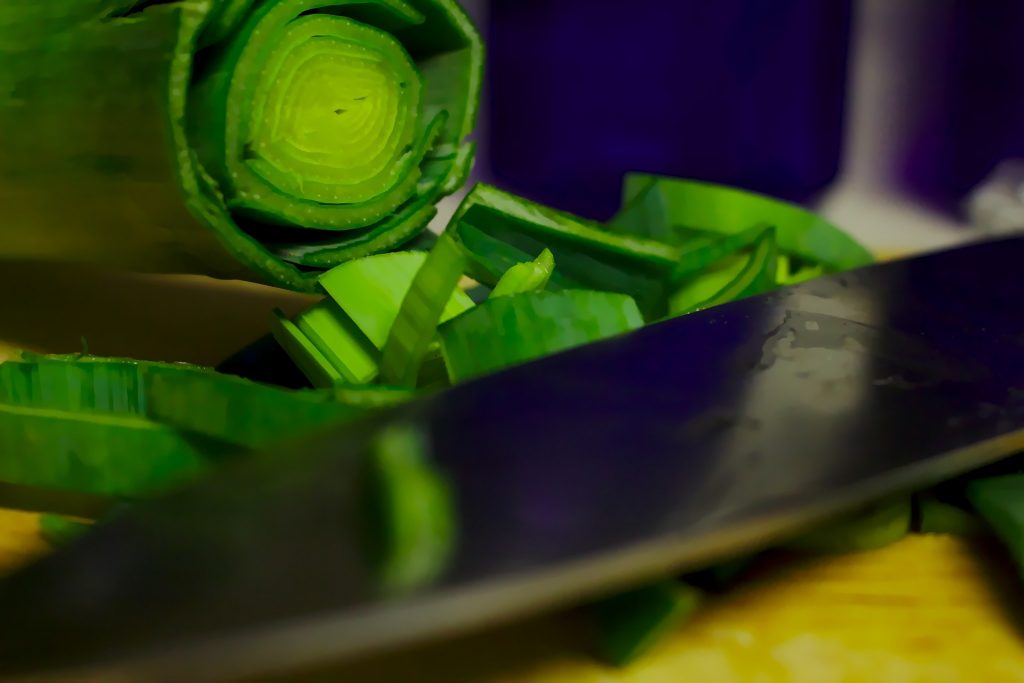 Behind the scenes of the top hotel and restaurant kitchens, hidden in plain sight, lies a simple but effective industry standard.
A little known fact (among those outside of the culinary industry), colour coding in professional kitchens has been designed to help F&B practitioners avoid a brush with the long arm of the law.
While being sloppy, gross and having a little too much fun preparing a small dinner for loved ones at your apartment on a Saturday night could probably be forgiven, the level of care that has to be in place when running a professional culinary establishment is another thing altogether.
Don't ever forget, the food standards enforcement officer that inspects your premises is looking for a reason to shut you down.
No, really, she/he is and if you're in the food industry, bear in mind that in order to get organised and stay on the right side of regulators, it helps to not be colour blind.
Utilising a method of communication that revolves around colour creates a system that can help prevent cross-contamination between raw and finished products while yielding many other benefits.
If you own or operate an establishment in the F&B industry, colour coding can be an easy way to prove that you are adhering to health and safety standards when that inspecting officer comes 'a knocking.
The fact is, even some of the world's best restaurants have their horror stories and have had their reputations severely tested by just one seemingly insignificant cross-contamination incident which then lead to food poisoning and spread like wildfire.
The use of colour coded equipment is widely adopted in professional kitchens and can range from tongs to knives, chopping boards and even thermometers!
While keeping your customers (and yourself) safe, adding a spot of color to your kitchen can also help things run more smoothly as color differentiation can play a large part in optimizing workflows.
The Code
A commonly used kitchen colour code may look something like this:
White - bakery and dairy products
Blue - raw fish
Red - raw meat
Green - fruit, salad and fresh vegetables
Yellow - cooked meat (some kitchens use this for raw poultry instead)
Brown - root vegetables
Color coded chopping boards
In a professional kitchen, colour coded chopping board sets are used to enable employees to quickly identify which chopping boards should be used for a specific food group.
You may or may not need a full set of boards (depending on the type of business you run). Although it is advisable for every professional kitchen to have a full set, generally, it is recommended that you have at least two boards to separate your cooked and raw foods in order to minimize the risk of cross-contamination.
Color coded kitchen knives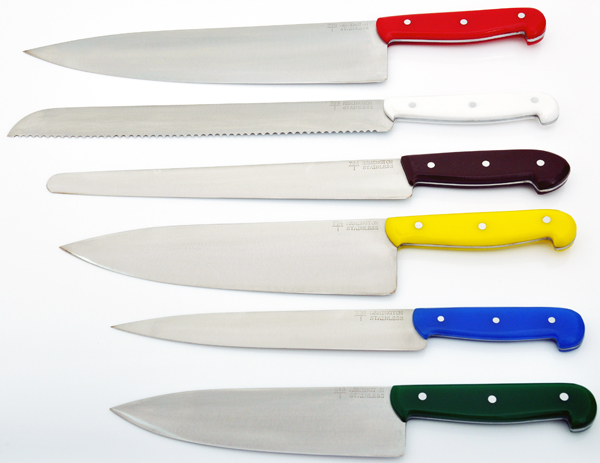 Remington knives offers a colour coded set that has been designed for each relevant department.
Colour coded knives are now a necessity in all professional kitchens and different colour handles for different types of food help teach employees to engage in safe food handling practices.
Most knife manufacturers now produce knives which follow colour coded hygiene regulations and their associated colours.
Whether you need to slice fresh vegetables or cut raw meat, colour coding ensures that the right knife with the relevant handle colour is always used on the correct type of food.
This keeps everyone safe while having the added benefit of giving your food the best possible finish and protecting your knives from damage as well.
Go ahead and experiment
Coloured utensils show that your business appreciates the threat of contamination between different types of food.
Investing in a multicoloured kitchen system is relatively cheap and will transform the safety of your premises for customers as well as staff without breaking the bank.
Get creative and design a colour coding system that works for your setup. There are lots of different colour coded utensils out there for you to use.
Your kitchen staff (especially new hires) may have used a different system in the past so once you figure out what your code is, it is vitally important to display the information on your colour system clearly, such as on an easy to read and clearly visible wall chart.
Laminated wall charts act as a quick reference for employees and can help them see which colours are used for each task.
This article is part of The Professional Kitchen, a series run by the Carbonate culinary industry insider blog.
A smarter HR system for a smarter business: Carbonate helps you keep track of attendance and leaves in your company, and keeps you connected to your staff with its built-in broadcasting and promotion messaging tool. Its employee profiles and HR leave management system meet MOM 2016 Employment Act Amendment requirements.
Click here to find out more.